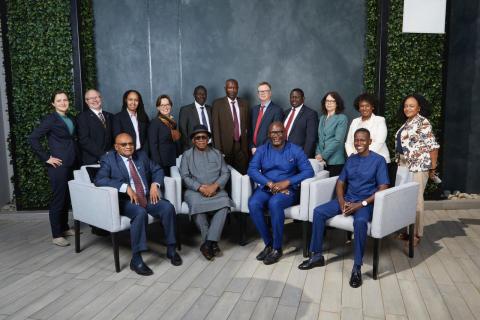 Johannesburg- This week, the ARC Group Board Members and ARC Management team convened in Johannesburg for the organisation's first-ever Board retreat on 23 February 2022, and the first Board meeting of the year on 24 February 2022. 
The retreat was an opportunity for the ARC Group Management to appraise the newly-constituted Board on key operational and strategic matters; and to discuss pertinent issues facing the organisation. The forum allowed the two to get to know each other better and establish a working rapport towards building an ARC that can respond to the Disaster Risk Management needs of Africa with world-class solutions.
With climate-induced weather disasters and disease outbreaks increasing in occurrence and intensity, the Board retreat and meeting highlighted the enormity of the task that lies ahead of the organisation to deliver on its mandate effectively. The Disaster Risk Management landscape is continuously changing and requires the ARC Group and partners to be agile. The two days confirmed the Board's passion for the organisation and their commitment to the cause – to improve Africa's ability to respond and strengthen its resilience.  
Over the two days, extensive discussions to explore all areas of concern were held. Topics discussed were broad, ranging from the sustainability of ARC and its fundraising efforts, to the urgent need for product diversification, the ARC business model, the ARC structure and governance, and the on-boarding of new countries. Importantly, the retreat laid the foundations for the Board meeting that followed and made for faster decision-making.
Overall, the Board retreat and meetings were successful in achieving set objectives. There was commitment from both sides to ensure that decisions taken during the Board meeting would enable ARC to provide African solutions to African problems.