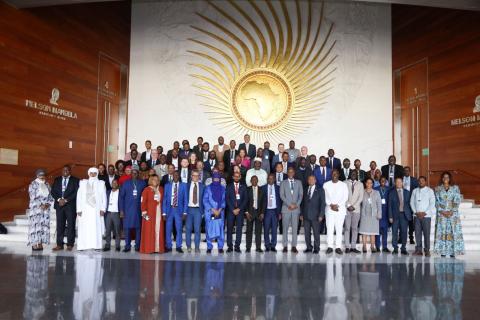 The ARC Group has just concluded its 13th session of the Conference of the Parties (CoP 13) held at the African Union (AU) Headquarters in Addis Ababa, Ethiopia on 3 and 4 April 2023. The COP is the supreme decision-making organ of the ARC Group, and has the responsibility to provide the final approvals on critical matters after Board reviews and endorsements. CoP 13 was organised jointly by the ARC Secretariat and the Department of Agriculture, Rural Development, Blue Economy and Sustainable Environment of the African Union Commission.

The meeting of Senior Government Officials was attended by 25 ARC Member States, 2 observer countries and representatives from partner organisations, African Development Bank, the European Union, Foreign, Commonwealth Development Organization (FCDO), Global Affairs Canada, the Embassy of Switzerland, and KfW Development Bank as observers.

CoP 13 came at a time when ARC has just celebrated its 10-year anniversary in November 2022, amidst many milestones and lessons learned. Dr Mothae Anthony Maruping, Chairperson of the ARC Group Board expressed his appreciation to the CoP for its continued guidance on critical issues affecting ARC, and together with Mr. Ibrahima Cheikh Diong, Director General of ARC Group and Lesley Ndlovu, ARC Ltd. CEO, renewed their commitment to serve Member States.

CoP 13 elected by consensus, the following, as members of the Bureau, as provided for in Article 12 (4) of the Agreement for the Establishment of ARC Agency: Chairperson, Federal Republic of Somalia (East); 1st Vice Chairperson: Chad (Central); 2nd Vice Chairperson: Ghana (West); 3rd Vice Chairperson: Mauritania (North); and Rapporteur: Kingdom of Lesotho (South).

Following the briefing on ARC Group activities, the session also deliberated on key strategic decisions CoP 13 approved the ARC 2023 Programme of Work and budget, and urged the ARC Secretariat to expedite the implementation of recommendations from the Independent Formative Evaluation of the ARC Group.

CoP 13 made a number of decisions: (i) submission of bi-annual reports on the implementation of the governance reform and challenges being faced; (ii) work with the Government of Côte d'Ivoire and agree on a timeline for the relocation of ARC Headquarters by the end of the year; (iii) conduct an assessment on why member states are not ratifying the ARC Treaty; (iv) product diversification to include flood, volcanos etc.; (v) prepare a strategy and advocacy plan to speed up signature and ratification; (vi) submit a progress report on the relocation of ARC Ltd to an appropriate African jurisdiction; (vii) ARC Ltd to be transparent on the reinsurance costs and process and to consider including African reinsurers in their portfolio; (viii) strengthen the capacity-building programme and facilitate knowledge exchange among member states; (ix) ARC Ltd to reduce operating and reinsurance costs; and (x) encourage Member States to participate in the ARC Replica Initiative.