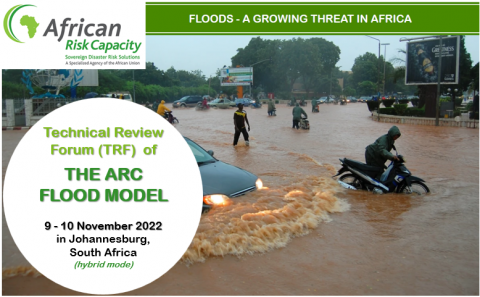 The African Risk Capacity (ARC) is pleased to announce the organization of a two-half day virtual Technical Review Forum (TRF) of its Flood Model. The TRF will be held on 9 - 10 November 2022 in Johannesburg, South Africa in English with simultaneous translation in French and Portuguese.
ARC Member States have expressed strong interest in the development and delivery by ARC of a flood insurance product to help countries respond timely to flood disasters. Following this interest, ARC has engaged with its partner JBA to propose a probabilistic approach to support the delivery of a practical and customizable parametric flood insurance product. The purpose of the proposed flood model is to generate daily analysis of river flooding for each country and calculate the associated impacts (people affected and economic losses).
The Technical Review Forum (TRF) is an expert panel that reviews ARC models for different perils before the models can be used for risk transfer and seasonal monitoring. This is one of the quality assurance mechanisms in place to ensure that models used by ARC are as robust as possible and measure up to the best standards in the industry.