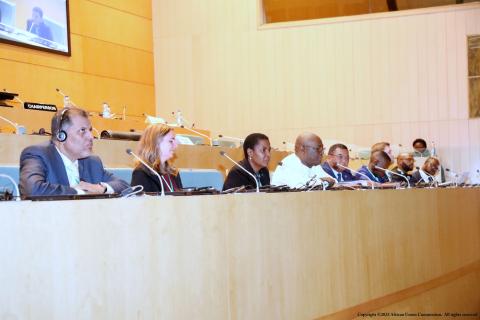 On the margins of the 13th Session of the ARC Conference of the Parties COP 13, the ARC Group hosted a panel discussion under the theme, "ARC @10: Lessons learned and perspectives" following its recent 10-year anniversary celebrations in November 2022. Given the escalating climate crisis and its impact on the continent, it was fitting that ARC and its stakeholders review its first decade of existence, take stock of the role the organisation has played in the Disaster Risk Financing landscape in Africa, and review the lessons learned over the decade. The objective was to highlight the importance of strengthening risk financing systems as a necessary component for resilience building and adaptation efforts to climate change.

In addition to, Ibrahima Cheikh Diong, Group Director General, and UN ASG, Ms Lucy Nyirenda Kumwembe, ARC Head of Policy and Technical Services, and Mr Lesley Ndlovu, CEO of ARC Ltd, the panel convened representatives from member states, Malawi, Madagascar and Mauritania; technical partner, the African Development Bank; and donor partners, the European Union, the UK Government's Foreign, Commonwealth & Development Office (FCDO) and Global Affairs Canada.

The discussions gave the perspective of the ARC Group with a special focus on the organisation's capacity-building services as an important part of building country institutions and leadership for the protection of vulnerable populations. On the back of the 2022 Climate Change Summit (COP 27) which recognised insurance as a critical tool for adaptation and in managing loss and damages from climate disasters, Mr Ndlovu highlighted the important role of parametric insurance in strengthening the continent's response.

The three ARC member states, Malawi, Madagascar and Mauritania, drew on their experience in participating in ARC risk pools and acknowledged the role of the ARC programme in defining policy frameworks for continued and sustained transformative approach to disaster management. The countries appreciated the support of ARC in preparedness planning and how this has helped improve coordination between governments and their partners. The countries also encouraged ARC to work in collaboration with other global finance initiatives such as the Global Climate Fund (GCF) and Global Environment Fund (GEF) to support the work ARC is implementing in countries.

In addition to confirming their continued support, ARC partners echoed similar sentiments, recognising the successes of the past decade and emphasising the important role of ARC in contributing to the agenda to strengthen Africa's resilience to disaster threats. Its efforts to mainstream gender in the DRM environment remain a critical element in building true resilience.

As ARC works to increase its reach and impact on the continent, such exchanges are important in aligning the goals of all stakeholders and guiding efforts internally.