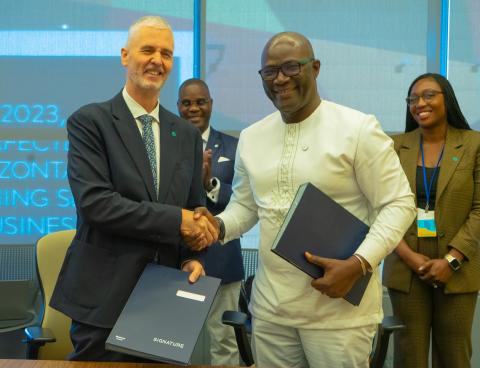 New York, United States of America – The Global Green Growth Institute (GGGI) and the African Risk Capacity (ARC) are pleased to announce the signing of a Memorandum of Understanding (MOU) aimed at strengthening cooperation in support of sustainable development and climate resilience across the African continent.
The MOU was signed on the 20th of September, 2023, by Dr. Frank Rijsberman, Director-General of GGGI, and Ibrahima Cheikh Diong, United Nations Assistant Secretary-General and ARC Group Director General.
The partnership between GGGI and ARC seeks to leverage their respective strengths and expertise to address the critical challenges of climate change and environmental degradation in Africa. By combining GGGI's extensive experience in promoting green growth and sustainable development with ARC's specialisation in climate and disaster risk management, the organisations intend to develop innovative solutions that enhance resilience and reduce vulnerabilities in African countries.
Key objectives of this partnership include:
Enhancing Climate Resilience: GGGI and ARC will collaborate on projects and initiatives that build climate resilience at the national and regional levels, including developing climate risk management strategies and integrating climate adaptation into national development plans.

Capacity Building: The organisations will work together to strengthen the capacity of African countries and institutions to manage climate and disaster risks effectively, offering training programs, knowledge sharing, and technical assistance.

Research and Knowledge Exchange: GGGI and ARC will engage in joint research activities and facilitate the exchange of knowledge and best practices to inform evidence-based policy and decision-making in Africa.

Resource Mobilization: The MOU envisions collaboration on resource mobilisation efforts to secure funding for projects and initiatives that promote climate resilience and sustainable development in African countries.
For Dr. Frank Rijsberman, Director General of GGGI]: "This partnership represents a significant step towards achieving our shared goal of a more sustainable and climate-resilient Africa. By combining our organisations' expertise and resources, we can make a meaningful impact on the lives of millions of people across the continent."
For Ibrahima Cheikh Diong, UN ASG, and ARC Group Director General: "We are excited to join forces with GGGI in our collective mission to enhance climate resilience in Africa. This MOU marks the beginning of a fruitful collaboration that will help African countries better prepare for and respond to climate-related challenges."
GGGI and ARC are committed to working closely with African governments, regional organizations, and other stakeholders to implement the activities outlined in the MOU, fostering a stronger, more resilient, and sustainable Africa for current and future generations.
For media inquiries, please contact:
Mona Laczo, Head of Communication and Knowledge Sharing, GGGI mona.laczo@gggi.org
Michèle Diane Karambiri, Head of Communication, ARC Group michele.karambiri@arc.int
About the Organizers:
The Global Green Growth Institute (GGGI) is a treaty-based international organisation that promotes sustainable economic growth, helps governments reduce poverty, and achieves sustainable development by integrating environmental sustainability and social inclusion in their economic development plans and policies.
The African Risk Capacity (ARC) is a specialised agency of the African Union established to assist African Union Member States in reducing the risk of loss and damage caused by extreme weather events and natural disasters, thereby protecting the food security of their vulnerable populations.