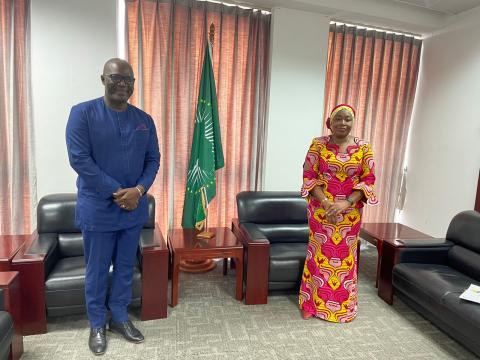 As part of his first official visit to the African Union, UN-ASG and DG of the ARC Group, Ibrahima Cheikh Diong met with H.E. Amb. Minata Samate Cessouma, AU Commissioner for Health, Humanitarian Affairs and Social Development.
The meeting was a great opportunity to congratulate the commissioner for her recent election and renew our commitment to doing our part as a member of the AU family in supporting Africa's resilience efforts vis a vis climate change and other perils. 

Our forward-thinking exchanges centered around, amongst other things, building synergies between ARC and the Commission in strengthening Africa's humanitarian interventions, exploring joint fundraising initiatives, joining forces on Outbreaks and Epidemics, advocacy, the role ARC could play in the implementation of the soon to be launched African Humanitarian Agency (AHA) and the need for Africa to lead on these matters, and exposing decision-makers to the positive impact of our interventions on the ground. 

ARC is a proud specialised agency of the African Union composed of ARC Agency, a public entity, and a commercial affiliate, ARC Ltd, established in 2012 and 2014, respectively, to help Africa plan, prepare for and respond to weather-related hazards.