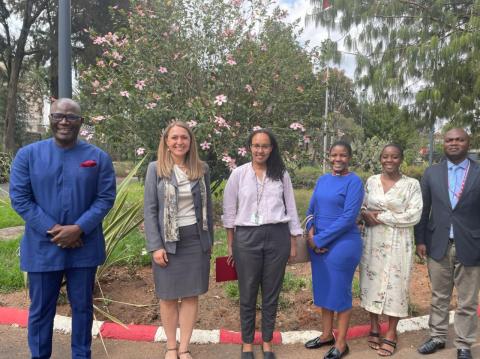 Productive meeting in Addis with Ms. Nalan Yuksel and Ms. Khadija Jarik from the Pan-African and Regional Development of the Canadian Embassy for Ethiopia. The meeting was a great opportunity for ARC Management through UN-ASG and DG of the ARC Group Ibrahima Cheikh Diong to express our appreciation and gratitude to the Government of Canada for their financial and strategic support to the ARC concept since its inception in 2012.

Canada contributed significantly to the achievements of the treaty-based ARC (Over 900 million USD worth of coverage, 85 million people protected, 100 million USD in payouts, 4 million beneficiaries and experts in 17 countries trained in risk modelling, contingency planning, and risk transfer).

The meeting was also an opportunity for Canada to renew its commitment to supporting Africa's resilience efforts and to brief the Canadian team on our progress to date, challenges ahead and our strategic directions as we aim to scale up our interventions across Africa, including on evidence-based advocacy, fundraising to support our growth, R&D to keep ARC relevant to its member states, strategic partnerships with other like-minded organisations, gender mainstreaming in DRM, storytelling of beneficiaries.

The ARC Group is committed to continuing the journey with Canada and other partners that started with us since 2012 as we join forces to make Africa more resilient vis a vis the negative effects of climate change and other perils.