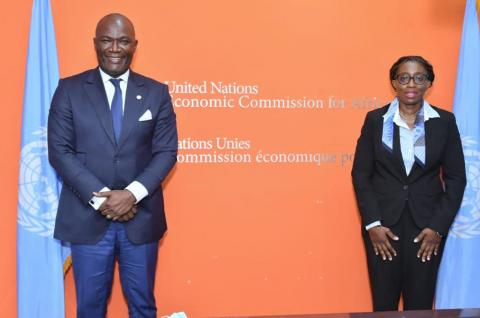 To wrap up our official visit to Ethiopia (African Union, UN, ARC's partners, and Member States), we held a very productive meeting today with H.E. Vera Songwe, UN-Under Secretary-General and Executive Secretary of the UN Economic Commission for Africa(ECA) and her team! 

Both UN-USG Vera Songwe and UN-ASG and DG of ARC Group Ibrahima Cheikh Diong, renewed their strong commitments to seeing the MOU between the two institutions yield tangible results for our Member States and the vulnerable communities affected by the climate-related disasters. 

Our forward-thinking exchanges focused, amongst other things, on few immediate opportunities for collaboration: Strengthening data management, climate forecasting and risk modelling capacities of African countries, Developing disaster risk country strategy and profiles to facilitate informed public policy discussions, Strengthening partnership with African private sector and other private insurance companies on climate resilience and financing schemes, Supporting Africa's voice at COP27 in Egypt, Strengthening Africa's humanitarian and disaster risk intervention capacities and financing, etc.

We look forward to attending and sharing the ARC model, concept, and impact stories at the upcoming ECA's Minister of Finance meeting in Dakar in May 2022.