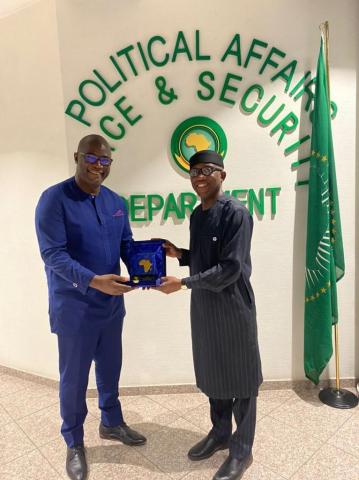 Profoundly strategic exchanges today in Addis with H.E Amb. Bankole Adeoye, AU's Commissioner of Political Affairs, Peace and Security and his team.

We were thrilled by the Ambassador's renewed support to the ARC mechanism and his commitment to supporting our advocacy and outreach efforts by showcasing the impact of ARC across our member states and beyond.

Our strategic conversations covered, amongst other things, leveraging our Heads of States to advocate for ARC, the role of ARC within the broader Africa's disaster and humanitarian landscape, the impact of AU sanctions on humanitarian initiatives, particularly on vulnerable communities, the role of ARC in the AU led African Humanitarian Agency initiative, the support to ARC's fundraising efforts, the partnership between the AU and UN under ARC, ARC's interventions in post-conflict countries, the correlation between climate change and security, etc.

We are delighted that the Commissioner has accepted our invitation to visit our HQ in Johannesburg in May 2022 to further expand on our discussions and has extended an invitation to UN-ASG and DG of the ARC Group Ibrahima Cheikh Diong to address the AU's Peace and Security Council meeting in June. 

ARC and The Commission are fully committed to protecting the lives and livelihoods of vulnerable communities at times of political crisis and weather-related disasters.