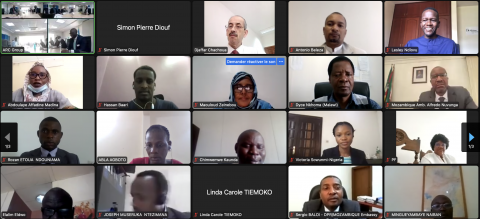 Today, ended the 12th edition of the ARC Conference of Parties (CoP), held virtually.
 
The COP is an important part of the governance discourse of the ARC Group as it provides an opportunity for Management to appraise the Member States on the progress made so far, secure the necessary approvals and seek guidance on the strategic directions of the institution
 
During this meeting, a new Bureau was elected that is composed of representatives from Zambia (Southern Africa, Chair), Madagascar (Southern Africa, 1st Vice-Chair), Chad (Central Africa 3rd Vice-Chair), Togo (West Africa, 4th Vice-Chair) and Mauritania (Northern Africa, Rapporteur).
 
During the two meetings, which were attended by ARC partners and ARC Group Board Members, important decisions, amongst other things, were made in regard to the approval of the annual budget of the ARC Agency, the ratification drive of the ARC treaty, strategic directions of the organization as well as the urgency of developing a sustainability plan for ARC after 9 years of support from donors partners. 
 
Further, member states had expressed their commitment in principle to exploring the various options that are available to them in regard to membership fees as a way of offsetting the operation of ARC Agency and reducing ARC's dependency on donor partners. The COP was also briefed on the fundraising strategy of the Group as well as on the status of the move of ARC's HQ from Johannesburg to Abidjan.
 
The member states also expressed their satisfaction vis a vis the Management Team of the ARC Group led by UN-ASG and Group DG Ibrahima Cheikh DIONG and CEO of ARC Ltd, Lindelwe Lesley Ndlovu, in the manner they continue to support them and urged them to expedite their product diversification efforts to further strengthen the relevancy of ARC to member states as disaster does not mean the same to all.
 
In his closing remarks, Honourable Minister, Situmbeko Musokotwane, Minister of Finance of Zambia and new Chair of the COP,  stated: "It is very important for us to take our continental organisation very seriously because its benefits are real. In Zambia, for example, we made a premium payment of USD250,000 for our drought insurance policy and are about to receive a pay-out of over USD 3Million which will save many lives. I, therefore encourage ARC to expedite its product diversification to tackle the weather-related natural disasters we face. I also call upon other Member States to ratify the ARC treaty to allow the organisation to grow and better support African countries".